Wednesday 03 January, 2018 |

---
Waterproof Very Warm White 3528 Quad Row LED Tape Lights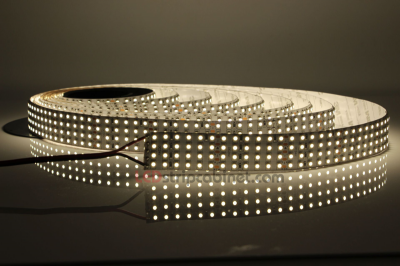 This quad row LED belt strip has 450 LEDs per meter and it's bright. It's available in many colors, plus white adjustable (daylight white/very warm white) and waterproof.

The whites have high Color Rendering Index (80+) not found in most LED strip. This means the light provides more even illumination of all colors of the spectrum. The LEDs cost more, but our lighting designer customers and other discriminating buyers have asked us for this. The light quality is excellent.

High density: with 450 LEDs per meter, the light is more even, and if you use our track with diffusers, you can get rid of the dots completely, which is a desired feature in direct lighting applications.

Available in many colors, plus white adjustable (from very warm white to daylight white) strips. We've seen especially strong demand for the white adjustable and very warm white strip. Part of the reason is that historically, the very warm white LEDs have been harder to make well. Recent technology advances in phosphor chemistry and application technique allow us to present these improved products.
---
---
---
---
---
News for Tuesday 02 January, 2018
---
View all news for Tuesday 02 January, 2018 on one page
---
---
---
Recent News
---
---
---